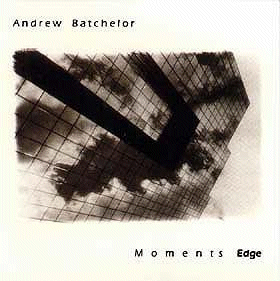 Artist: Andrew Batchelor, Composer/Synthesist
Tangent Records is pleased to announce the release . . . Moments Edge, a compact disc by Andrew Batchelor. Andrew Batchelor foreseeing a maturing New Age industry creatively pioneers New Age music into the next phase of its growth. By fusing a myriad of music styles, Andrew Batchelor moves Beyond New Age into the CONTEMPORARY ARTROCK era with a diverse selection of mood inducing rhythms, sounds and melodies which include New Age, Jazz/Rock and Electronic Music, highlighting his versatility on the Synclavier Computer Music System. To enhance the electronic flavor of this work, Andrew is accompanied by a live rhythm section composed of superior musicians from a variety of noted backgrounds, including Enzo Todesco from Switzerland who is Drummer with Gino Vannelli and Frank Gambale (Guitarist w/Chick Corea) and who has also been Drummer with Bassist Jeff Berlin. The Chief Recording Engineer on the project was Bruce Hensal, who was Recording Engineer on the famous Hotel California album of the Eagles, as well as many other well-known albums and soundtrack recording projects.
Andrew Batchelor is a gifted Composer/Synthesist with an impressive history of musical accomplishments. Andrew has served as Studio Composer/Keyboard Specialist at Kopperhead Productions in North Canton, Ohio, where he had an opportunity to work closely with the Synclavier Computer Music System. He also was a Recording Engineer and Studio Composer operating the Synclavier at Spectrum Recording Studios in New York, and in Los Angeles Andrew was an independent Composer/Synthesist working with a variety of studios. While in Los Angeles, Andrew had an opportunity to work as Music Supervisor for a season on the "Cagney & Lacey" and "Kay O'Brien, Surgeon" television programs - overseeing the music production. Andrew has a Bachelor of Music Degree from The Ohio State University with majors in Theory/Composition and Jazz Studies. Andrew also attended the Berklee College of Music in Boston, Dartmouth College, and the Full-Sail Center for the Recording Arts.
While at The Ohio State University, Andrew set up the School of Music's Sound Synthesis Lab (comprised of mainly Moog and Serge Modular Synthesizers) with his teacher, contemporary Musician/ Composer/Synthesist, Dr. Thomas Wells, who was a student of Karl-Heinz Stockhausen. Andrew also studied Jazz Piano with Hank Marr. Andrew was active in the Music School's Composers Workshop, which was a composer's forum and new music group. In 1984, his Synclavier computer music composition, Visions (1984), was selected for the annual Ohio Composer's Concert, held in Columbus, Ohio.

Look for Andrew Batchelor's soon to be released solo piano album.
Those interested in receiving additional information and new release updates, call or send your name and address as listed below.
---
You can contact TANGENT RECORDS at...
Tangent Records
P.O. Box 383 Reynoldsburg, OH 43068 USA
Phone: (614) 751-1962
Fax: (614) 751-6414
E-mail: info@tangentrecords.com
---
Return to Tangent Home Page
© 2017 Tangent Records. All rights reserved.
---
"GET OFF!!!!....on a Tangent"
---